Episode Guide
Talk

0
282pages on
this wiki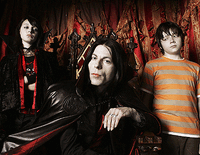 Young Dracula
is a British children's television series airing on CBBC, which is loosely based on the children's book by Michael Lawrence. The series, Directed by Joss Agnew, started with the first series being broadcast in 2006, lasting for 14 episodes.
The second series was broadcast from 2 November 2007 - 8 February 2008 and consisted of a total of thirteen episodes. A third series was commissioned in early 2011 and aired on 31st October 2011. It finished on the 12 December 2011. A fourth series was commisioned and started airing on the 29th of October 2012, it's last episode was broadcast on the 18th of December of that year.
Young Dracula has been renewed for a fifth series, which is due to start airing in early 2014 as there was delays in deciding whether there should be a season 5, they decided - to the relief of the fans - to make a fifth season which was filmed between April to June of 2013, as such due to the late filming the show was delayed from being aired around Halloween - when it is usually aired - to January.
Series 1 (2006)
Edit
Series 2 (2007 - 2008)
Edit
Series 3 (2011)
Edit
Series 4 (2012)
Edit
Series 5 (2014)
Edit
Fight or Flight Original Airdate: 13th January 2014
Who's the Daddy Original Airdate: 20th January 2014
Flesh and Blood Original Airdate: 27th January 2014
Once Bitten, Twice Shy Original Airdate: 3rd February 2014
Warning Shadows Original Airdate: 10th February 2014
The Enemy Within Original Airdate: 17th February 2014
Nemesis Rising Original Airdate: 24th February 2014
Open House Original Airdate: 3rd March 2014
The Bodyguard Original Airdate: 10th March 2014
Blood Match Original Airdate: 17th March 2014
Unknown Title Original Airdate:
Unknown Title Original Airdate:
Unknown Title Original Airdate: