The Vampire Café first appears in Series 5 of Young Dracula.
Asan leaves Garside Grange and enters a café where skulls are on display. Waiters wearing red waistcoats serve drinks in metal cups. Asan meets with his brother, Shango, who passes him a drink of bloodflower tea.
Later, Vlad and Talitha visit the café to spy on bounty hunter Farah.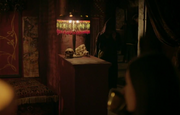 The fact that both Asan and Vlad were able to reach the café suggests that it is situated in or near
Liverpool
in the United Kingdom.
Ad blocker interference detected!
Wikia is a free-to-use site that makes money from advertising. We have a modified experience for viewers using ad blockers

Wikia is not accessible if you've made further modifications. Remove the custom ad blocker rule(s) and the page will load as expected.