"
My neighbour's a vampire....excellent!
"
When You're a Stranger
Series 01, Episode 01
Air Date
21 September 2006
Writer
Danny Robins, Dan Tetsell
Previous
n/a
Next
First Day At School
When You're a Stranger
is the first episode of Young Dracula, broadcast on 21st September 2006. It was the first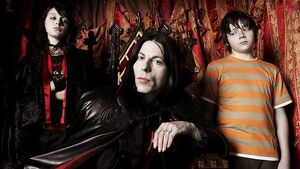 episode to feature the characters of
Vlad
,
the Count
,
Robin
,
Ingrid
,
Renfield
,
Elizabeth
,
Ian and Paul
,
Graham
,
Chloe
and
Zoltan
.
600 years old Count Dracula, having been forced to move from Transylvania to a castle in Wales, is disappointed that his son Vlad doesn't want to follow in his bloody footsteps. Meanwhile, the family of their young neighbour Robin Branaugh wishes that he wasn't such a vampire fan. Robin has a device that allows him to hang from his ceiling.
Zoltan the Hellhound is stuffed with sawdust.
Vlad hopes to own a TV.
Magda, Ingrid's Mother, is mentioned, and a portrait of her is shown
Ad blocker interference detected!
Wikia is a free-to-use site that makes money from advertising. We have a modified experience for viewers using ad blockers

Wikia is not accessible if you've made further modifications. Remove the custom ad blocker rule(s) and the page will load as expected.